---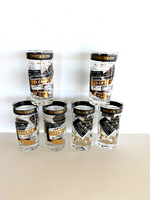 A unique and whimsical set of Mid Century glasses. These tumblers feature a vibrant black, white, and gold pattern of "Drink Today - Repent Tomorrow" along with a number of "credit" items including a credit card, a balance sheet, an "American Depressed" card that says 1960 on the card date (a play on an American Express card). Truly a whimsical and magical set of Mid Century tumblers.

Maker/era: possibly Georges Briard. They have a Briard feel to them, although they are not hallmarked. Mid Century.

Hallmarks: None.

Measurements: each glass measures 5 1/2" tall x 2 3/4" in diameter

Condition: These glasses are in very good condition and if they were used, it wasn't much. The gold and black and white pattern is in great shape and very vibrant. No chips or nicks. The glass clarity is perfectly clear (no cloudiness). Beyond typical Mid Century glassware flaws (i.e. there might be a tiny bubble in the glass, etc) these glasses are in very, very good condition.

**On shipping: We take our packaging very seriously and carefully wrap all pieces to ensure safe delivery.

***Your shipping address: Buyers, please ensure your shipping address is correct/updated when you check out! Your purchased item(s) will get shipped to whatever address is entered at the time of checkout or that's previously on file!

****Important to note pre-purchase: Buyers, please examine all photos carefully as we cannot accept returns due to the fragile nature (the possibility of breakage when being shipped back) of our vintage/antique pieces. Our items are true vintage pieces that might have manufacturers flaws, flaws from age, or imperfections in general from being vintage. We try to explain the condition/description in an accurate and thorough manner but we ask that you please examine all photos carefully and ask all questions before purchasing an item as we are unable to accept returns due to the risk of breakage. 

>>> IMPORTANT UNPACKING INSTRUCTIONS/PROOF OF ORDER ACCURACY & SHIPMENT: on orders with MULTIPLE pieces please note that if your order has more than one item/piece in it (so multiple pieces such as a set of jiggers, cocktail picks, tags, Julep cups, combined shipping orders, etc.) please take care to thoroughly empty the box and unpack ALL pieces which may be hidden in tissue paper, bubble wrap, peanuts, etc. We cannot be responsible if you accidentally throw one of your items away! We WILL be able to confirm with 100% certainty that we shipped ALL pieces in your order as we photograph/document ALL PIECES in the box it ships in along with the buyer's order receipt, shipping label, and tracking number (in case we need to verify that all pieces were shipped once the package has been received). Thank you for shopping with us and cheers!
Customer Reviews
Another fabulous find!!!!
Not only are these glasses (and EVERY single item I've ever purchased from Lilly) absolutely amazing, the items are always immaculately packaged with very explicit directions on how to safely unpack your beauties! This shop is so kind, fair in price and always knowledgeable and willing to help even if it's with an outside purchase! Thank you once again, I look forward to many more purchases from you!!